Dental Implants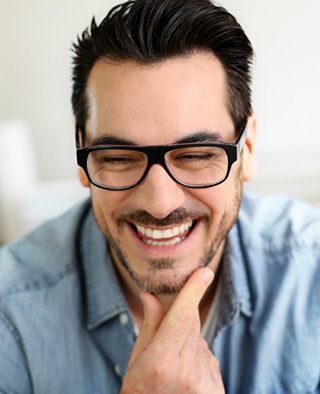 If you are looking for an implant dentist, come to Wigwam Creek Dental. Dr. Scott Lee can both place the implant and perform the implant restoration right here in his dental office. If you are missing teeth, a dental implant is an excellent solution. A dental implant is an artificial tooth root made out of a special metal alloy, that can be placed in your jaw to replace a missing tooth, or support dental crowns and implant supported dentures. After the implant has been placed, this special dental restoration will fuse with the bone in your jaw to restore the support your jawbone needs to stay healthy.  Once the implant has complete healed, our dental team will restore your full tooth with a beautiful dental crown. This restorative dentistry technology can also be used to replace several teeth by using an implant supported denture or partial denture.
Some advantages of dental implants are:
Permanence | Dental implants are considered a safe and permanent solution for missing teeth. The implant will fuse with your jawbone giving you a lasting functional tooth, while beautifying your smile.
Support | Missing teeth can cause deterioration in the jawbone, because of the lack of tooth roots to give the jaw support. A dental implant can help you restore that necessary support, and achieve excellent oral health again.
Versatility | As an implant dentist, Dr. Scott Lee, can provide patients with multiple treatment options. If you are only missing one tooth, a single implant with a dental crown tooth restoration can be an effective solution. If you are missing multiple teeth, several dental implants can be used to support a partial or full denture.  
At Wigwam Creek Dental, we are excited to be able to offer this advancement in dental technology to our patients who have suffered a devastating tooth loss. Our team loves to be able to restore smiles with dental implants. If you a missing teeth, give us a call so we can give you a permanent, beautiful, smile!